I am close to finishing my concealors. I have liked them, but am not totally sold on them. Under my eyes I have been using
Maybelline: Instant Age Rewind Eraser Dark Circle Treatment Concealer (9.00)
Company says: with goji berry + haloxyl instantly erases the appearance of dark circles and fine lines. Visibly diminishes the appearance of puffiness
I have really enjoyed the formula of this product. As I mentioned before I have very dry skin and this includes under my eyes. Some concealors can dry out and get flaky under my eye. Not the look I am going for. The container for the product is very nice and it comes with a really soft applicator ball on the end. It seems to last almost all day and does not ever get flaky or crease under my eye.This is a product that I will repurchase.
My face has a lot of red in it and one of my big problem areas is around my nose. The maybelline is too light and looks kinda strange when I use it in the area. Before I purchased the maybelline concealor I was using this Laura Mercier concealor. For my under eye area I did notice that this would start to crease and get a little dry feeling by the end of the day. Around my nose it seems to work fine. I am not in love with it and will not repurchase.
Laura Mercier: Secret Concealor (22)
Company says: Developed specifically for use under and around the eye area. Secret Concealer's moisture-rich, emollient formula is specially designed for the dry, sensitive skin under the eye to conceal discoloration and dark circles.
I have been researching this one: Bobbi Brown: Creamy Concealor (22).
Company says: Bobbi's secret to looking fresh and well-rested: a yellow-based concealer that instantly camouflages dark circles. Bobbi's long-wearing Creamy Concealer gives you quick, just-right coverage. The new and improved formula is richer and creamier, so it goes on easy, blends smoothly and stays put. Plus it's infused with skin conditioners to protect the delicate under-eye area. Your ideal shade of Creamy Concealer is one shade lighter than your foundation.
The foundation that I like the best for my skin tone also has a yellow undertone so I think this might work for me. The reviews on it have been pretty good that I can find. I also like the youtube videos from Bobbi Brown that show her applying it. I really think that is what sold me. I haven't made the purchase yet, but am getting very close.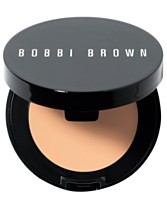 Do you have good recommendations for concealors?? Remember I have red tones and dry skin :) Comment below.