As mentioned in a previous post my hair is about 1 inch below my shoulders. It's a combination of wavy and straight. My hair is thick and fine. I mainly wear it curly like in my profile picture. I use the curling iron I showed in my previous post to curl my hair. I thought I would add the list of hair products I use on my hair. Ulta is having a special on Matrix products. Buy 2 get 1 free :)
In the shower:
The products mentioned below were the ones that were recommended by Good Housekeeping for aging hair care products. That is how I stumbled across them.
Shampoo: Matrix Biolage Age Rejuvinating Shampoo (18.00)
Love this stuff. My hair is much healthier and my hair color lasts much longer now that I have been using this.
http://www.drugstore.com/biolage-by-matrix-biolage-age-rejuvenating-shampoo/qxp347396?catid=183491&fromsrch=biolage
Conditioner:
I actually combine 2 for my hair. When my second child was still getting up for night feedings, the only thing on TV was infomercials. I would get sucked into these everytime. Thank goodness I couldn't get to the phone or I would have a whole lot of stuff at my house. I watched the WEN haircare one several times. I went online and searched for dupes for it and found that Sally's beauty carries one and have been using it for about 9 months now.
Matrix Biolage: Age Rejuinvating Conditioner (18.00)
http://www.drugstore.com/biolage-by-matrix-age-rejuvenating-conditioner/qxp347394?catid=183400
Sallys Beauty: Hair One (12.00):
I tried this on it's own, but was not wild about how my hair felt. It makes my hair color very shiny. I add a pump of this to the conditioner above.
http://www.sallybeauty.com/cleansing-conditioner/HARONE01,default,pd.html?cgid=Hair
I also use a weekly treatment from Sallys
AGEbeautiful Intense Strengthening Treatment (10.00). I use this once per week, usually on Sundays. I tend to not fix my hair at all that day.
http://www.sallybeauty.com/hair-treatment/SBS-124682,default,pd.html?cgid=Hair
After the Shower:
It's a Ten: (18.00)
I have used this going on 2 1/2 years now and can really tell a difference in my hair when I don't spray it on after my shower. I use about 6 sprays all over my head before I comb my hair out.
Alterna Thickening Compoud: 15.00
This really helps my hair get some lift due to it being so fine.
http://www.drugstore.com/alterna-hemp-with-organics-thickening-compound/qxp167152?catid=157879&fromsrch=alterna+thickening&N=0
Rusk: Deep Shine Protective Oil: (16.00)
I use this only on my ends. Due to my hair being longer and the amount of heat I used on it, I really try to protect my ends so my hair can continue to grow.
http://www.drugstore.com/products/prod.asp?pid=341405&catid=183385
Hair Spray:
I love the Kenra hairspray. I have been wanting to try the L'Oreal Elnett Satin Hairspray, Strong Hold (15.00): let me know if you have an opinion on it.
Kenra Volume Spray (17.00)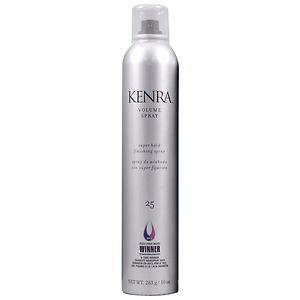 http://www.drugstore.com/kenra-volume-super-hold-finishing-spray/qxp232950?catid=183488&fromsrch=kenra
Heat Treaments:
Use with straightener: I have been sold on this product for about 2 years now. It keeps my hair static free :)
TRESemme Thermal Creations Heat Tamer Protective Spray (5.00)
http://www.drugstore.com/tresemme-thermal-creations-heat-tamer-protective-spray/qxp147153?catid=183510
Use with the curling iron: I can only order this from amazon and don't know how much longer that will be availble :(. Let me know if you know any similar products.
Got2b Guardian Angel Heat Protect 'N Curl Spray (around 10.00)
I know that's a lot of products, but it's what works for my hair. The one I cannot and won't live without is the It's a 10. That stuff is a miracle worker in my mind. What do you use and can't live without??? Share below.